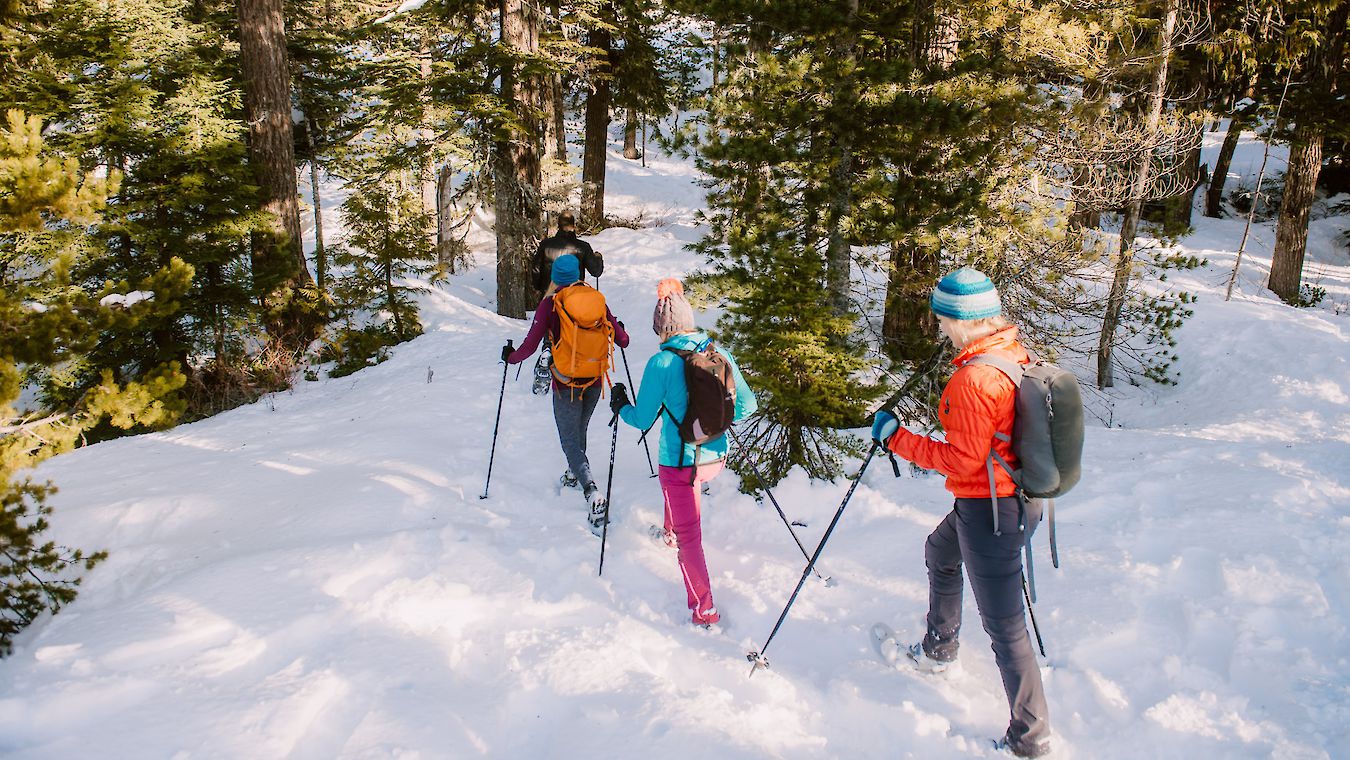 Snowshoeing

Escape into our winter wonderland!

Experience winter snowshoeing as it was meant to be, quiet solitude, crisp mountain air, a snow-laden forest, and breathtaking views. The Sea to Sky Gondola region gets some of the deepest snow in North America and has a wide variety of terrain, whether you are an experienced snowshoer or a first-timer.

Snowshoe trails are open as conditions permit. Please visit our Daily Conditions for the latest trail conditions and winter activity report. Our network of trails and roads offers a huge range of options - short or long, steep or flat....your choice!
Tips for Snowshoeing
LAYER UP

Just like when you prepare for a hiking trip, it's important to wear the proper clothing when snowshoeing. Layering your clothing is the key to staying warm and dry. If you're already an avid hiker, you can use many of the same pieces of clothing for your snowshoeing adventures.

STAY HYDRATED

Don't forget about staying hydrated even when you're outside in the cold. Also, make sure to pack plenty of snacks or lunch depending on how long you'll be out for.

USE SNOWSHOE POLES

When you're first starting out, using poles is highly recommended to help you get going. Make sure the poles are the right height before you start, which should allow your elbows to be slightly bent when holding them.

PRACTICE DOWNHILL TECHNIQUES

When you are starting to go down a hill, keep your knees bent and put your poles firmly in front of you. Shift your bodyweight back to avoid falling backwards. Slowly take each step with first your heel to provide stability, and then place your toe down.

PRACTICE UPHILL TECHNIQUES

Going uphill can be challenging as well, especially when conditions on the trail are icy. "Kick stepping" is the most common approach, which involves quite literally kicking the front of your snowshoe to get past the snow and planting your snowshoes into the snow in front of you. This will allow you to make "steps" for yourself to safely ascend without slipping backwards.