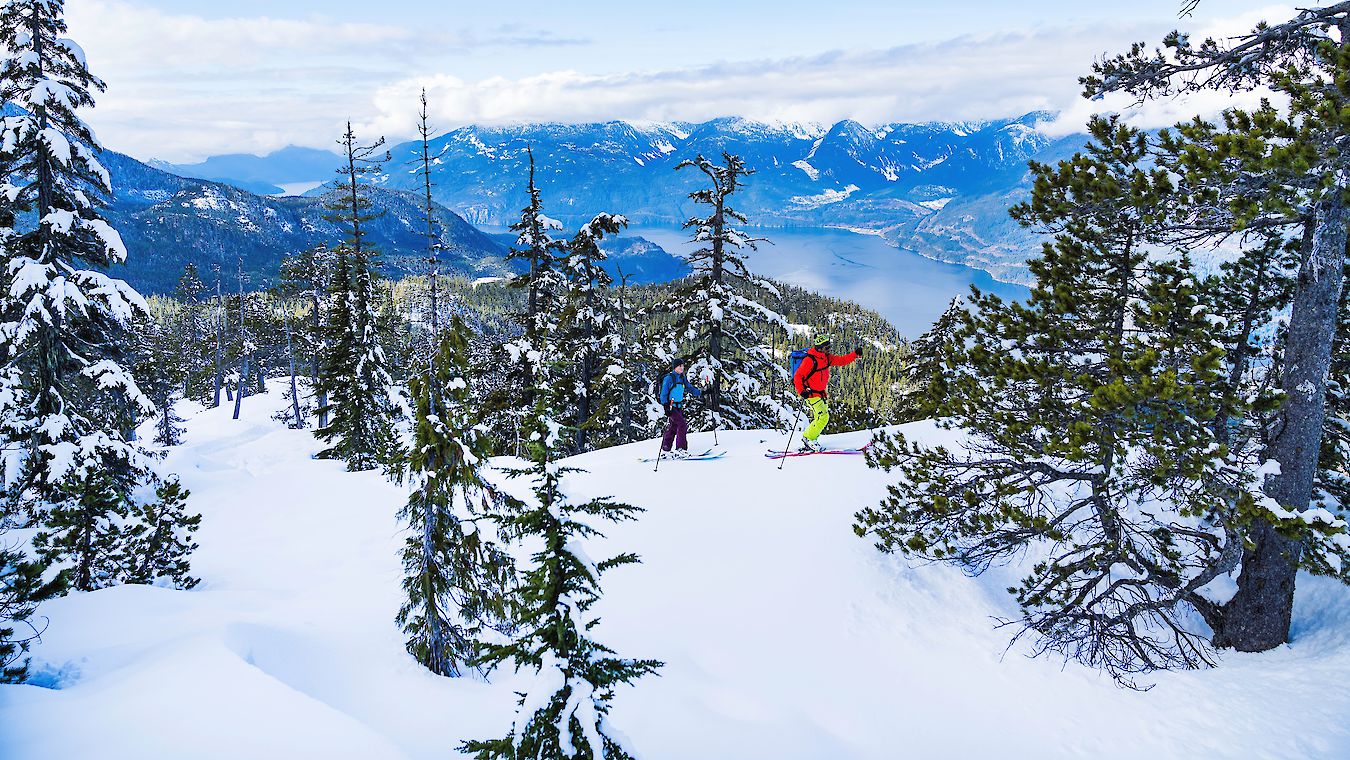 Backcountry

Endless options for the experienced!
Please read this page before accessing the backcountry. Be aware that this terrain is in the backcountry and is not patrolled by anyone from Sea to Sky Gondola.
The easy access to the upper Shannon Creek watershed, Goat Ridge, Mount Habrich, and Sky Pilot Mountain provides significant recreational value in both the summer and the winter for backcountry enthusiasts.
Sea to Sky Gondola does not perform snow safety assessments and does not rate the avalanche hazard in the backcountry. All information shared here and on social media sites is via Avalanche Canada.
The Sea to Sky Gondola has adopted a policy in which skis and snowboards will not be loaded on the gondola on days in which Avalanche Canada, in their public avalanche advisory, deems the zone known as 'South Coast' to be rated as 'high' or 'extreme'. We do this to support our local Search & Rescue and not add additional burden to their already challenging role. Visit Avalanche Canada for all of the details.
Every backcountry user MUST be well prepared and travel with other experienced backcountry users. When entering the backcountry every member of your group should have The Essentials and be wearing a transceiver (and know how to use it), carry an avalanche probe, and a shovel.
Squamish Search & Rescue advises that backcountry rescue is not always immediately possible, and is dictated by hazard assessment of current conditions.
YOU and ONLY you are responsible for yourself and your companions in this terrain. Proper equipment and knowledge are a given if you want to travel out here. You are responsible to read the Exclusion of Liability and Assumption of Risk, Jurisdiction waiver on the reverse of each ticket and posted throughout our operation.
If you choose to enter the backcountry, here are some helpful tips:
Never travel alone and advise friends and family of your destination and expected time of arrival back (make a Trip Plan online with AdventureSmart).
Always be aware of the current conditions and the associated risks that go with them.
Make sure you know the last gondola download time and plan to be back WELL BEFORE. Backcountry users must also understand that severe weather can change our download time and, thus, you should always be prepared to ski/hike down the service road.
Always bring communications equipment e.g. cell phone, radio or emergency locator - or all three!
Always have a first aid kit.
Be aware of the terrain and if your skill level matches it.
Pack clothing, equipment, water and food in case you have to stay overnight.
Be aware of dangerous wildlife in the area.
Be aware of current avalanche conditions.
Pack a shovel, transceiver and probe during the winter months if skiing or snowshoeing.
Never travel in the backcountry on the day after a big storm. Allow the snowpack to settle for at least 24 hours.
Don't assume a slope is safe because there are tracks going across it. Wind, sun, and temperature changes are constantly altering snowpack stability. What was safe yesterday (or this morning) could not be this afternoon. Further, when you cross a slope, you apply stress to the snowpack, which can cause it to slide.
Never allow your judgment to be clouded by the desire to ride the steepest pitch or get the freshest snow. Staying alive is much more important!
Never hesitate to voice concerns or fears. No one is going to criticize you for wanting to be safe in the backcountry.