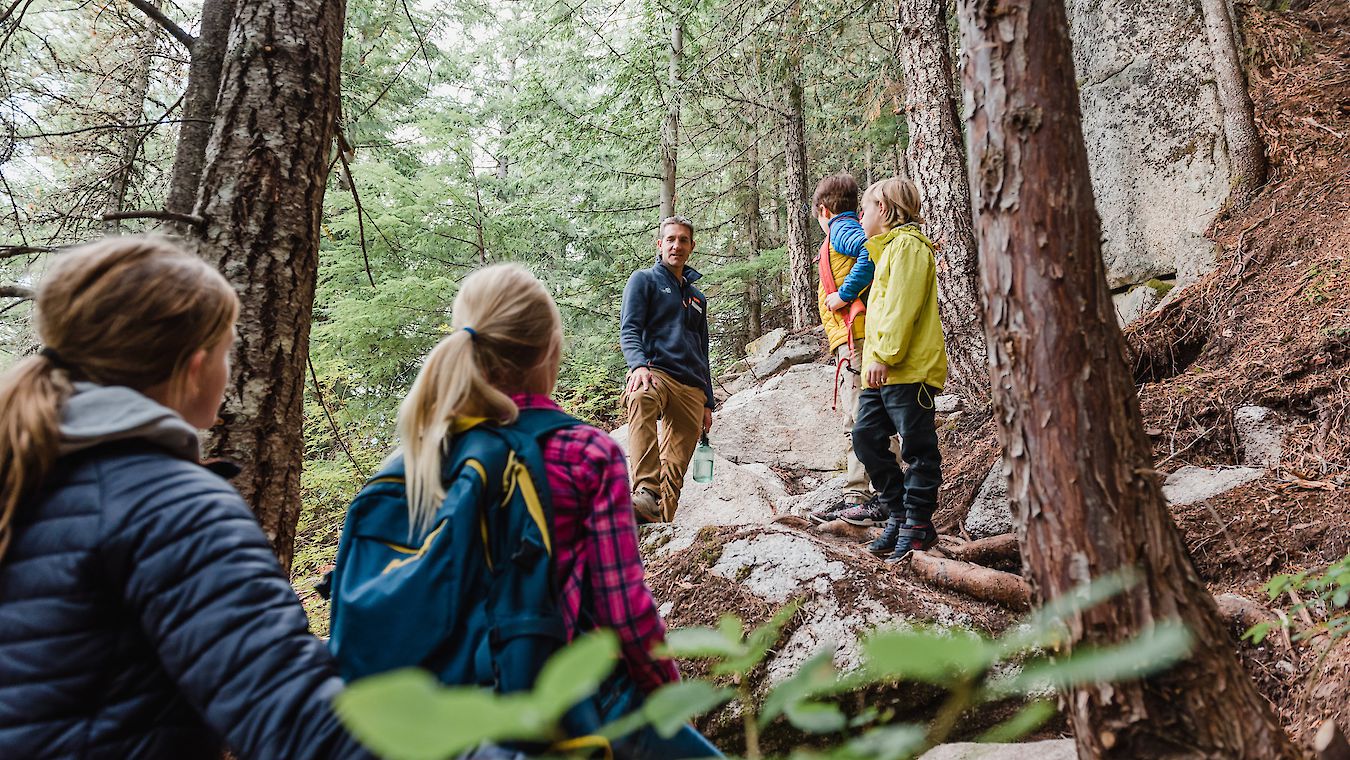 Junior Rangers

Grades K - 8
Come explore with us!
Our Junior Rangers program takes students on a thrilling ride up to our unique subalpine environment, a whopping 885 meters above sea level! We help teachers meet curriculum requirements with a dynamic and hands-on approach to learning. These courses are designed to engage students and connect them with nature and wildlife in an interactive way that encourages an inquiry-based method of learning.
Grade K - 3: Seasonal Changes and the Needs of Plants and Animals
In this exciting and playful course students learn about the unique ecosystem of the subalpine environment, how that environment changes throughout the year and how our native plants and animals adjust their needs for the various seasons. We tell stories, investigate and don our ranger caps to explore this vibrant mountain-top setting.
Grade 4 - 5: Humans and the Subalpine Environment
In this course we look into local wildlife biodiversity and the importance of humans sharing ecological spaces with animals. Together we learn about the delicate balance in the subalpine environment, what sustains a healthy ecosystem and how human actions can create a negative or positive impact. Students will brainstorm different ways in which humans can help the environment thrive and will develop a habitat improvement plan as we experiment with different ways we can live in harmony.
Grade 6: Adaptability of Plants and Animals in the Subalpine
The subalpine is home to some of British Columbia's most fascinating wildlife and interesting plants. Join us as we travel into this world to discover the ways in which these plants and animals adapt to meet the challenges of finding food, avoiding predators and surviving the changes of the seasons. Students will ponder how the plants and animals of the five kingdoms live differently in the subalpine than at sea level and work together to build their own habitat for various subalpine life forms.
Grade 7 - 8: The Food Web of a Subalpine Ecosystem
With harsh winters and limited food sources the plants and animals of the subalpine ecosystem rely heavily on each other for survival. The Sea to Sky Gondola offers students the ideal place to explore a complex network of interconnected species and to discover how the local habitats provide basic needs for the organisms living in them. Students will get an up-close look at the interactions between decomposers, producers and consumers and experiment with the relationships between biotic and abiotic things.