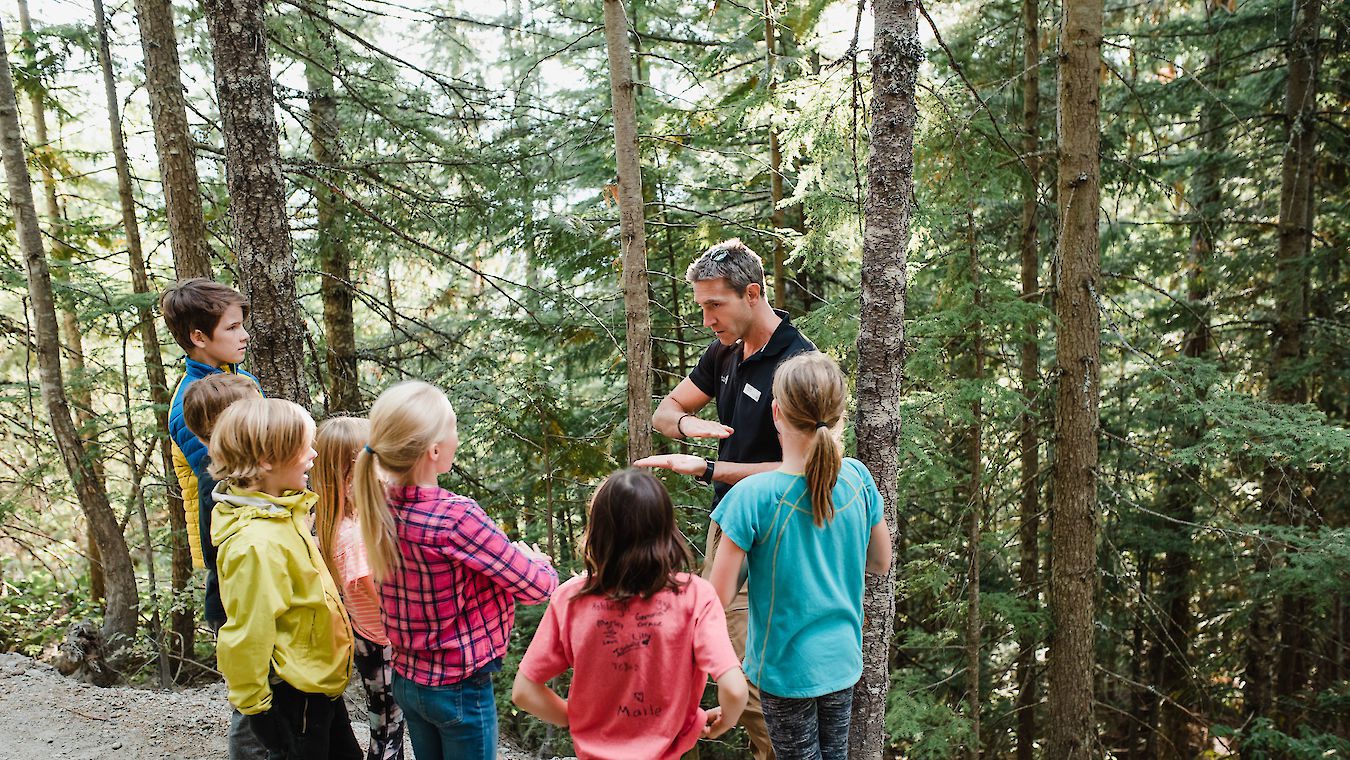 FAQs and Pricing
What types of programs do you offer?
We offer a several School Programs and can customize the program to your class in order to enhance your experience as much as possible. Streams of inquiry can be incorporated into any of our programs. Contact us for more details.
How long are your programs?
Our programs are custom-built to fit the needs of your class requirements. As such, we can work around your scheduling requests. A typical program runs from 10:30 a.m.-1:30 p.m., but each experience is unique to your class.
When do your programs run?
Our programs run daily, year-round, except for seasonal maintenance in November.
Where do we meet our guides?
Our guides will greet you and your students as you come off the bus or, if you're carpooling, in front of Guest Services.
How many classes can you accommodate at once?
We can accommodate several classes at the same time. While we don't have a set capacity, your group size will alter your experience. Contact us for more details.
Do you have complimentary tickets for teachers and chaperones?
The Sea to Sky Gondola offers the following complimentary admission policy for teachers and supervising adults (these adults must be participants in the Education Program). If your student count changes, then your corresponding complimentary admissions will also change:
Kindergarten-Grade 3: 1 complimentary adult admission per 6 students
Grade 4-12: 1 complimentary adult admission per 6 students
SEAs accompanying a Special Needs child will also receive a complimentary admission and are not considered part of the above ratio. Additional adults over and above the student to adult ratio will receive a discounted ticket rate. Additional adults are welcome to visit us at the summit, but we do ask that only teachers and designated supervisors attend the program. Supervisors are expected to participate in the program and monitor the students.
Please Note: individual class needs are absolutely considered. Should you have a special circumstance, please don't hesitate to discuss it at the time of booking.
How much are the programs?
See program pricing below. Program prices include tax and gondola access.
Do you require a deposit?
We do not require a deposit.
What type of payment do you accept?
The final payment is due upon arrival to the Sea to Sky Gondola and will be processed as one payment. Visa, Mastercard, American Express, debit, and cheques are all accepted forms of payment.
Do you have lunch options?
We have a variety of lunch options available, please contact us for current menu options. Final numbers for pre-ordered menu choices must be confirmed 3 business days before the event. Please notify the Sea to Sky Gondola in advance of any food allergies and/or special dietary requests. Once given, the guaranteed numbers are considered final and must be paid in full.
Can you accommodate students with disabilities?
Absolutely! The gondola cabins, Summit Lodge, and viewing decks are wheelchair accessible (weather dependent). We can build the program around the requirements of any student, so no student will ever be left out of an activity or experience.
What if the weather is bad on the day of our program?
Our programs are designed to be run in all weather conditions. Mountain weather conditions can change quickly and are often unpredictable regardless of the time of year. Please prepare for all weather conditions. If for any reason beyond the Sea to Sky Gondola's control, including weather or other emergency conditions, we are unable to operate and guide, such non-performance is excused and the Sea to Sky Gondola may terminate the event without liability of any nature. We will do our best to facilitate a new date.
Do we need to be a school class to participate in your programs?
Not at all! We run programs for a variety of clubs and youth groups. We can custom-build a program to create a fantastic day for your group.