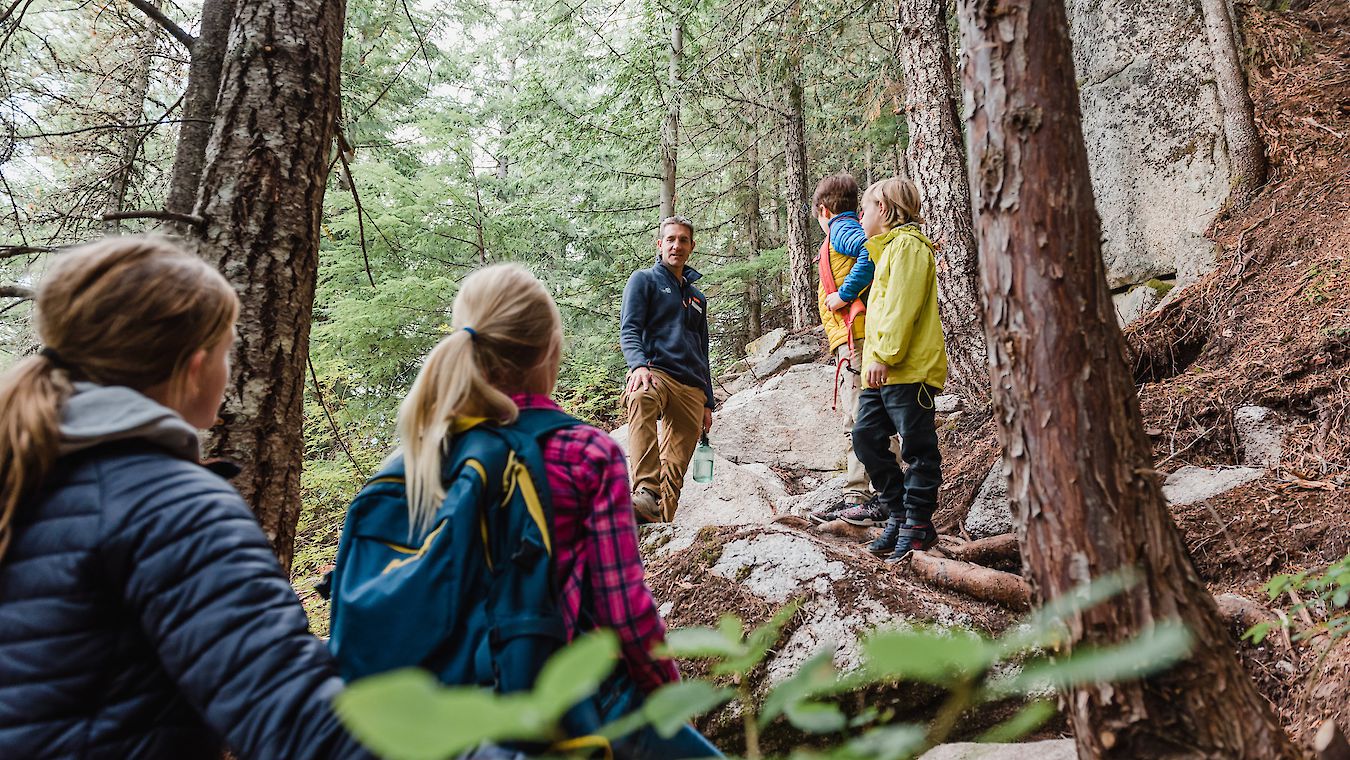 Junior Rangers

Grades K - 8
Come explore with us!
Our Junior Rangers program takes students on a thrilling ride up to our unique subalpine environment, 885 meters above sea level! We help teachers meet curriculum requirements with a dynamic and hands-on approach to learning. These courses are designed to engage students and connect them with nature and wildlife in an interactive way that encourages an inquiry-based method of learning.
Grade K - 1: Seasonal Changes and the Needs of Plants and Animals
In this course, students learn about the unique ecosystem of the subalpine environment, how that environment changes throughout the year, and how our native plants and animals adjust their needs for the various seasons. We investigate and explore this vibrant mountain-top setting through hiking and group activities.
Grade 2-3: The Food Web of a Subalpine Ecosystem
There is so much biodiversity and interconnected life in the subalpine! The Grade 2 and 3 students will explore the lifecycles, food webs and food chains found in this unique habitat. They will explore the summit and take part in a team activity which perfectly demonstrates the sensitive relationships within a food web at this altitude.
Grade 4: The Subalpine Biome and Animals with Super Senses
In this course, we look into local wildlife biodiversity and discuss the topic of biomes. Together we learn about the delicate balance in the subalpine environment and what sustains a healthy ecosystem. We will then look at how animals, birds and reptiles use their senses to respond to other creatures and their environment. Students will brainstorm the variety of super senses possessed by some of the subalpine and local inhabitants. They will discover just how vital these super senses are to some of our most familiar mountain residents.
Grade 5-6: The Rock Cycle
It is easy to see how amazing the local landscape is! Everywhere you look there is a rock feature of some kind but how did they get there and how did they form? Together the students will discover the incredible qualities of the rocks all around them.
Grade 7-8: Adaptability of Plants and Animals in the Subalpine
The subalpine is home to some of British Columbia's most fascinating wildlife and interesting plants. The guide will lead students in discovering the ways in which these plants and animals adapt to meet the challenges of finding food, avoiding predators, and surviving the changes of the seasons. Students will ponder natural selection and the characteristics of life with specific reference to the subalpine environment.