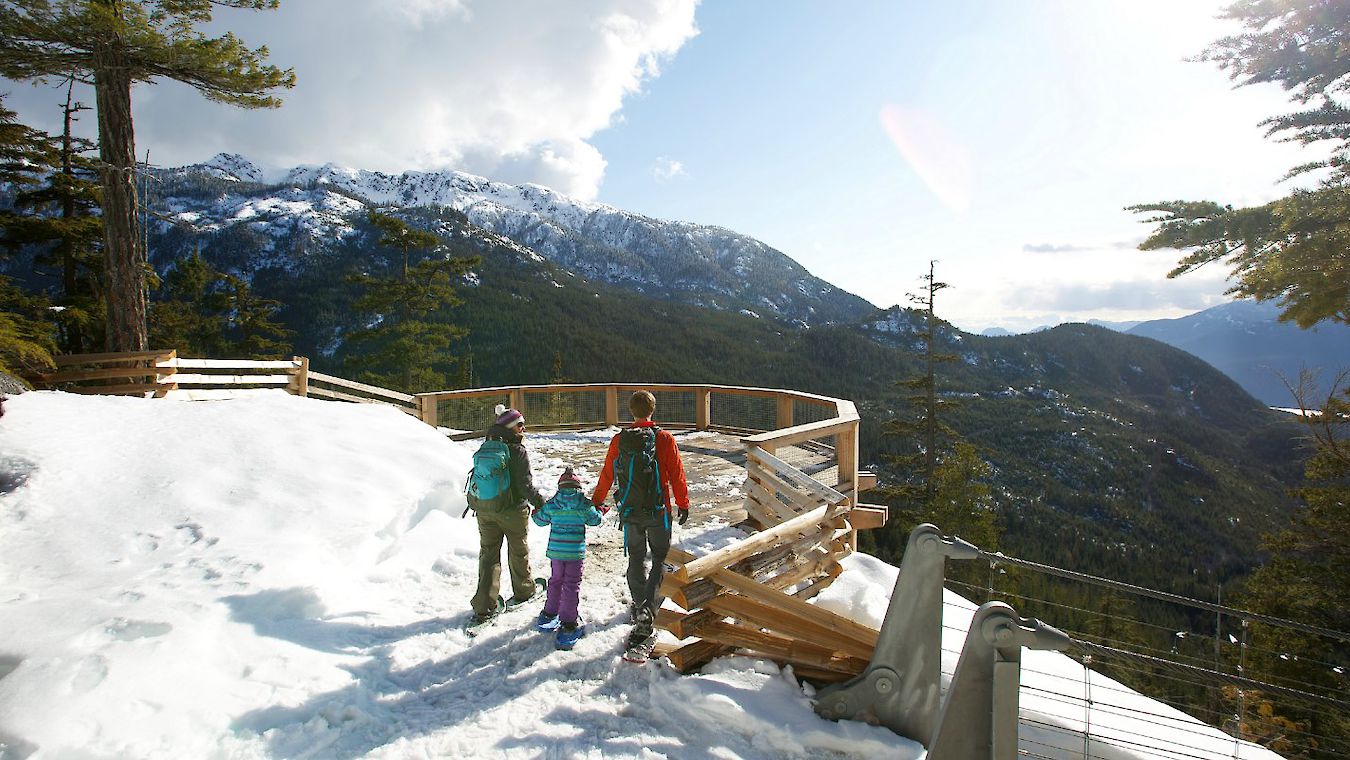 12 Things to Do for Family Day in 2015
29 January, 2015
There are plenty of things to do with your family in the Sea to Sky Corridor. For one, the Sea to Sky Gondola will be open on Family Day, Monday, February 9th. To celebrate the holiday, we are giving away 2 day tickets for the price of 1 on Family Day (February 9th)! No matter how many family members, how young (or old) your kids are, there are a number of fun things you can do with your family here at the Sea to Sky Gondola. The regular price of adult day tickets are $34.95 + tax (so you could get two tickets for $34.95 + tax!). For more pricing details, check our Tickets & Passes page.
For families of all ages...
Walk along the Suspension Bridge and Spirit Trail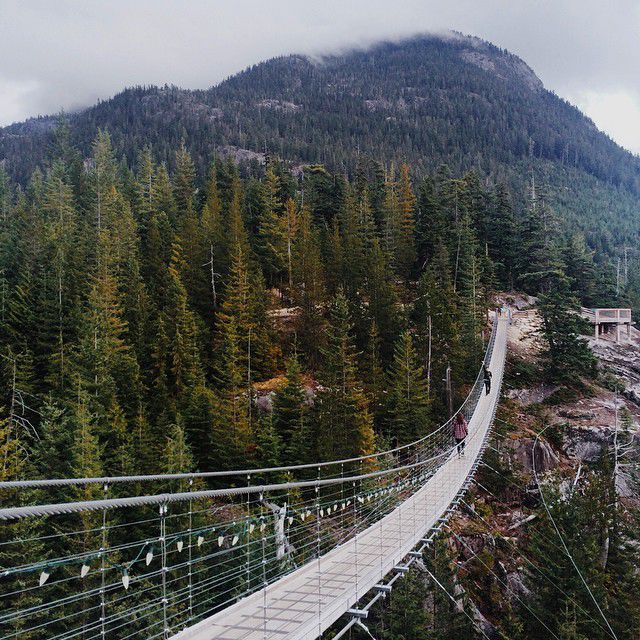 Whether you do it for the thrill or the view, it will be fun to share your exhiliration and enjoyment with your family members. Photo by Josh Strauss.

Try a melting fondue dinner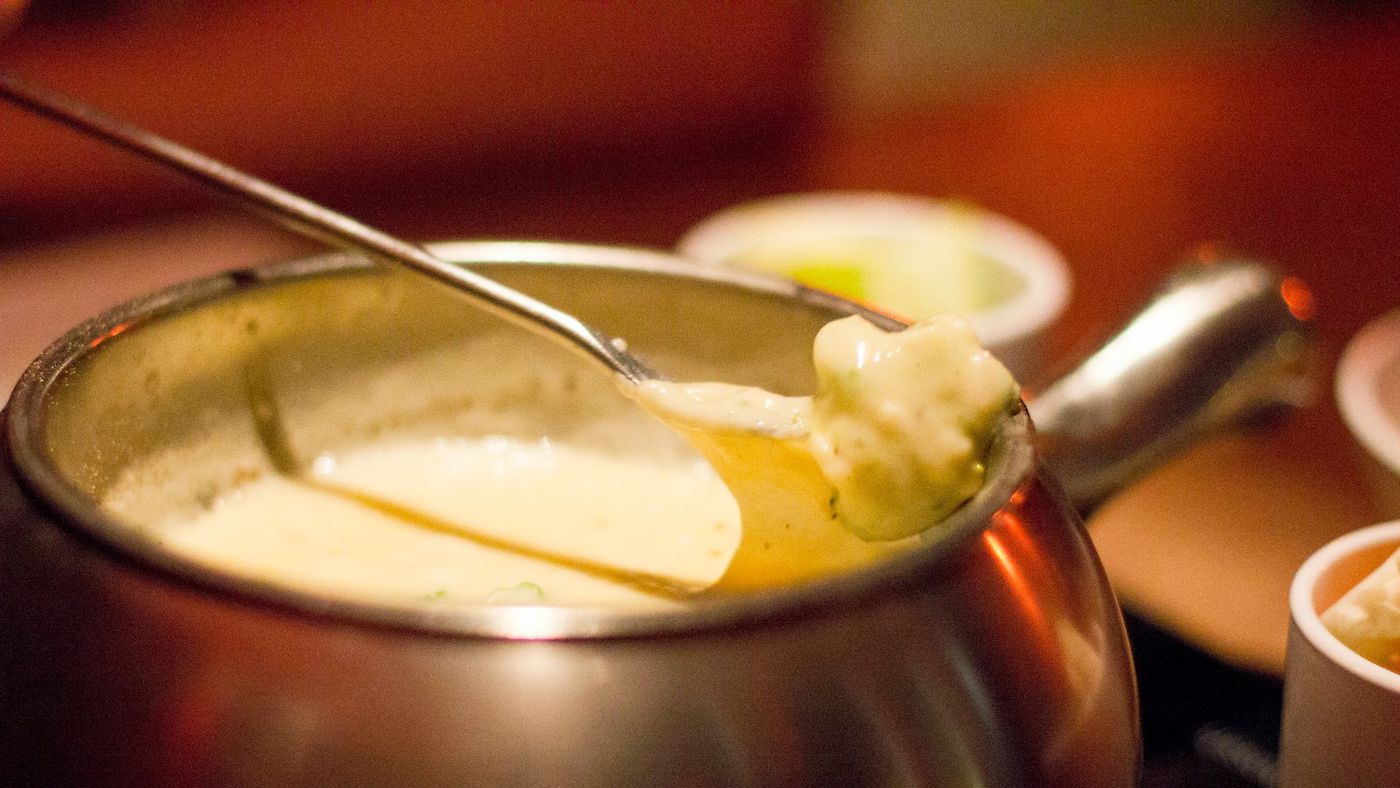 Cheese and chocolate fondues are great meals for sharing. Round up the family and book your table for our next Fondue Dinner on Saturday, February 7th. Additional dishes are also available. Check out out the menu and pricing here. Can't make it to dinner? No problem. Order fondue or crepes in our Summit Lodge during lunch hours. Photo by Bill Holmes.
For families with young children
Play in our Tumblewoods Playground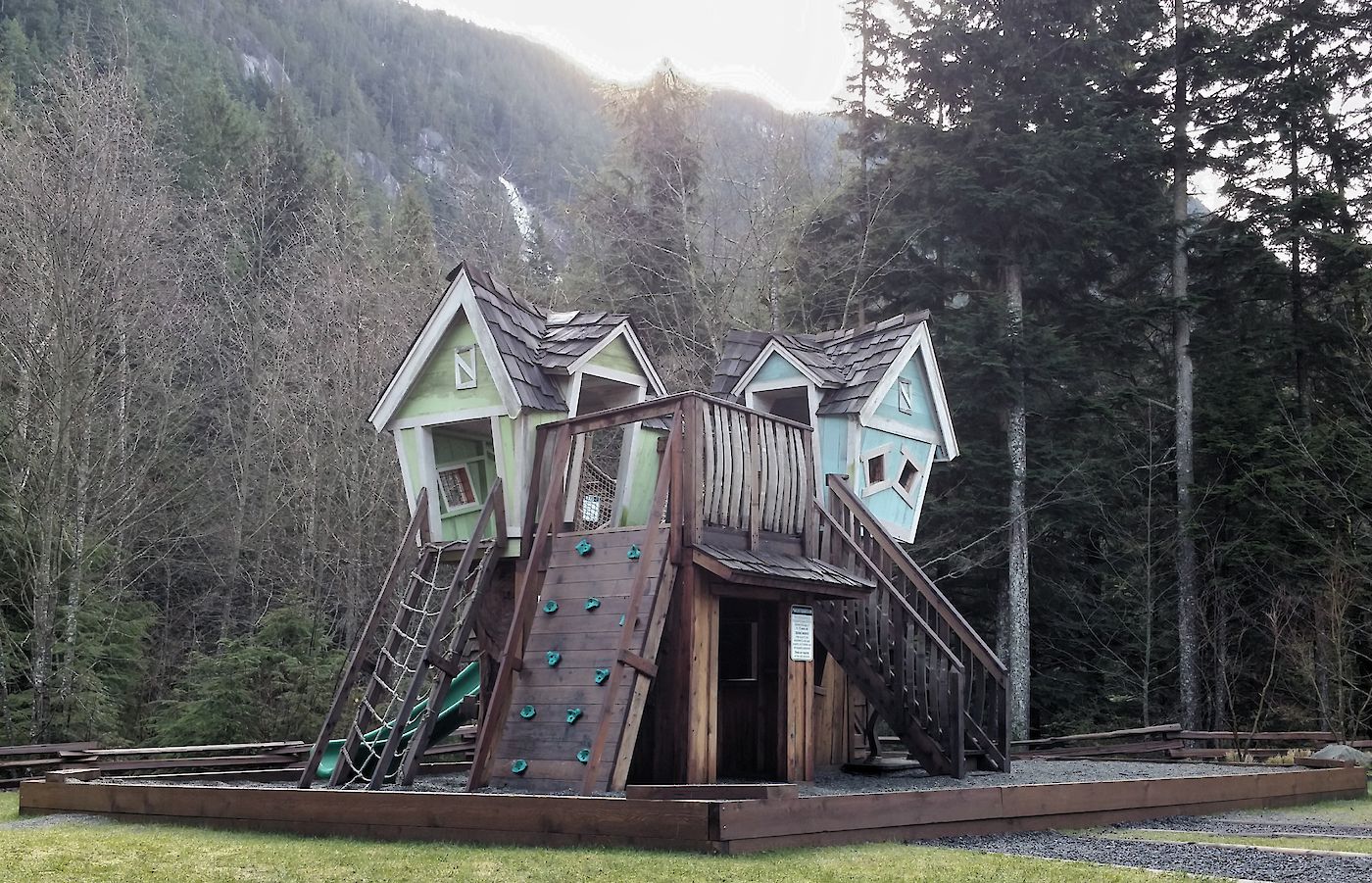 Our playground is located right outside our basecamp cafe. Let the kids play while the adults watch while sipping on hot drinks.
Try our scavenger hunt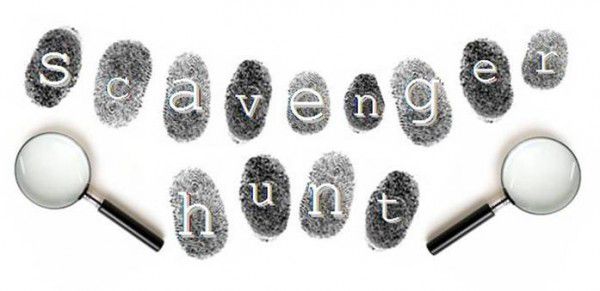 Hit the trails with our fun scavenger hunt. Grab a scavenger hunt from Guest Services at our base and once you have completed the hunt, enter to win prizes from the Sea to Sky Gondola and Mountain Equipment Co-op by dropping your completed scavenger hunt into one of our entry boxes in the Summit Lodge and in Guest Services at the base. Good luck!
For families over 16
Try snowshoe running
Any running enthusiasts in your family? Make the classic Squamish move and try a new sport -- just because you can. Our next snowshoe running clinic is Sunday, February 8th (conditions permitting). Find out more here. Photo by Paul Bride.

Hike the Sea to Summit Trail (3-5 hours)
If you're looking to endure a challenge together as a family, consider hiking the Sea to Summit Trail. The almost 9 kilometer trail takes you from our base, up more than 800 metres to our Summit Lodge. Onceat the summit, reward yourselves with a refreshing glass of beer or wine, and nourish your body with some of our lunch specials. Photo by Paul Bride.
Walk around Panorama Trail (40-60 mins, easy grade)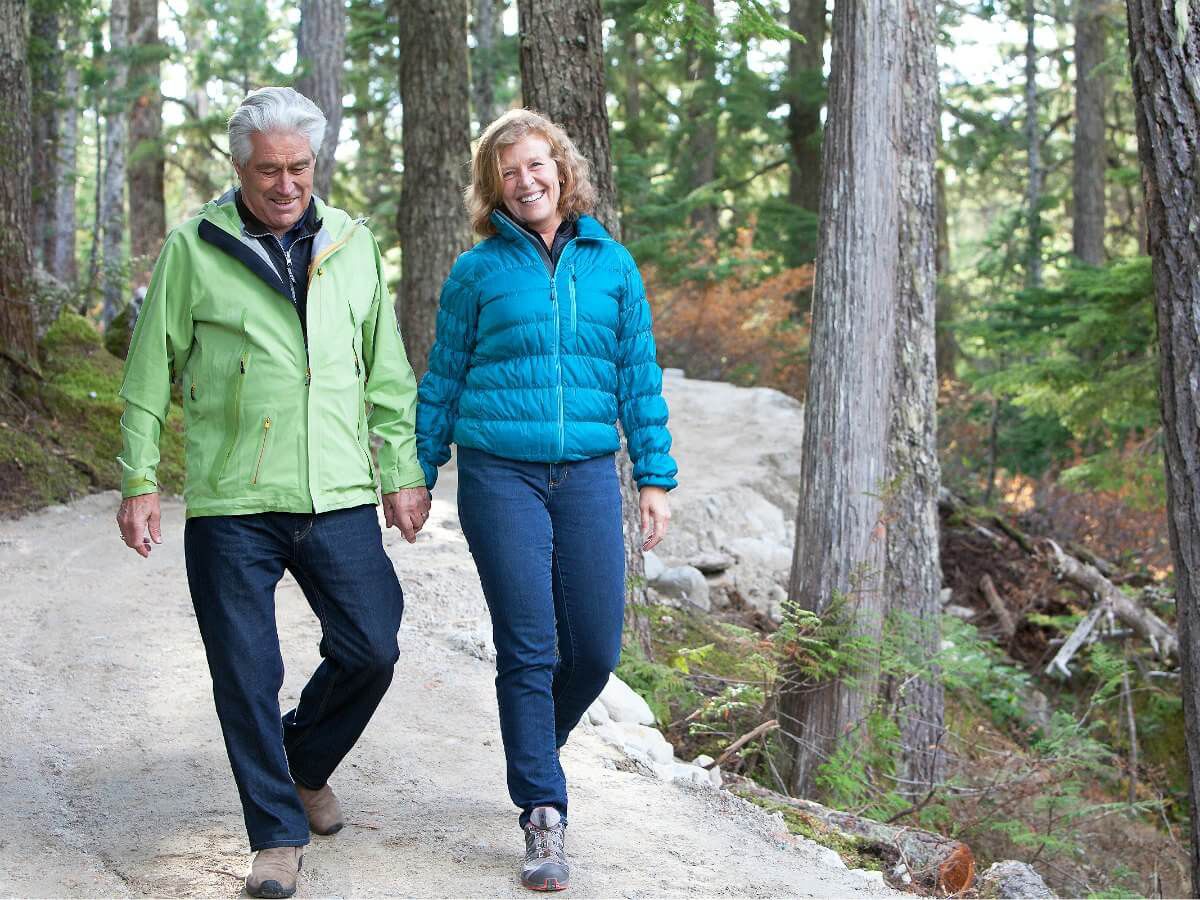 For breathtaking views and lush greenery, walk the
Panorama Trail
 together as a family. Panorama Trail is stroller and wheelchair accessible and takes you to several viewpoints overlooking the town of Squamish, the Chief and Howe Sound. Read more about our walking trails
here
. 
Photo by Paul Bride.
Hike around Wonderland Trail (30-60 mins, some steep inclines)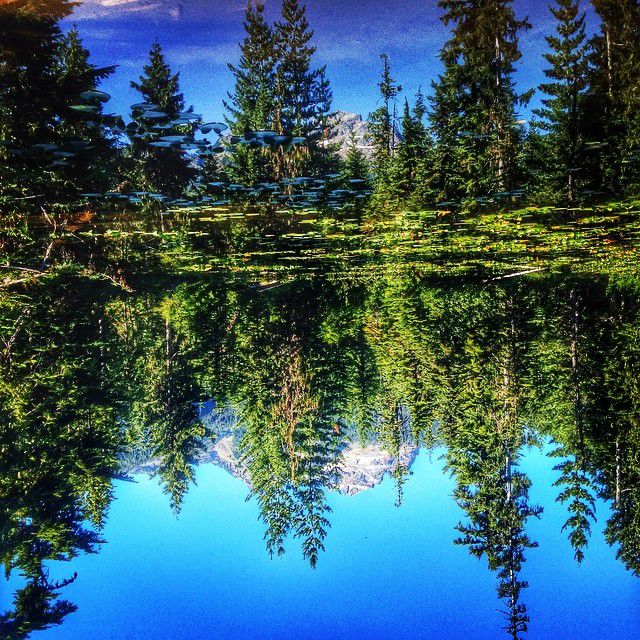 If you want something a little more challenging than Panorama Trail, try the Wonderland Lake Loop Trail near our Tube Park. Stop at the benches around Wonderland Lake for a quiet place to reflect or have some heart-to-heart chats with your loved one(s). Photo by Arron Vickery (This photo is upside down. The lake and reflection is on the top half of the photo, and the real view of the mountains is on the bottom).
For families with limited mobility
 
The summit of the Sea to Sky Gondola was once only accessible to those who were committed to hours or even days of laborious work to reach the top. It is our intention to provide access to the inaccessible wherever possible with the Sea to Sky Gondola. We have handicap parking at the base, wheelchair accesible washrooms (both the base and Summit Lodge), all gondolas are wide enough to hold wheelchairs or strollers, our summit offers both ramps and stair access to our Summit Lodge and trails, and our Suspension Bridge, Spirit Loop (conditions permitting) are wheelchair and stroller friendly.
Ride the gondola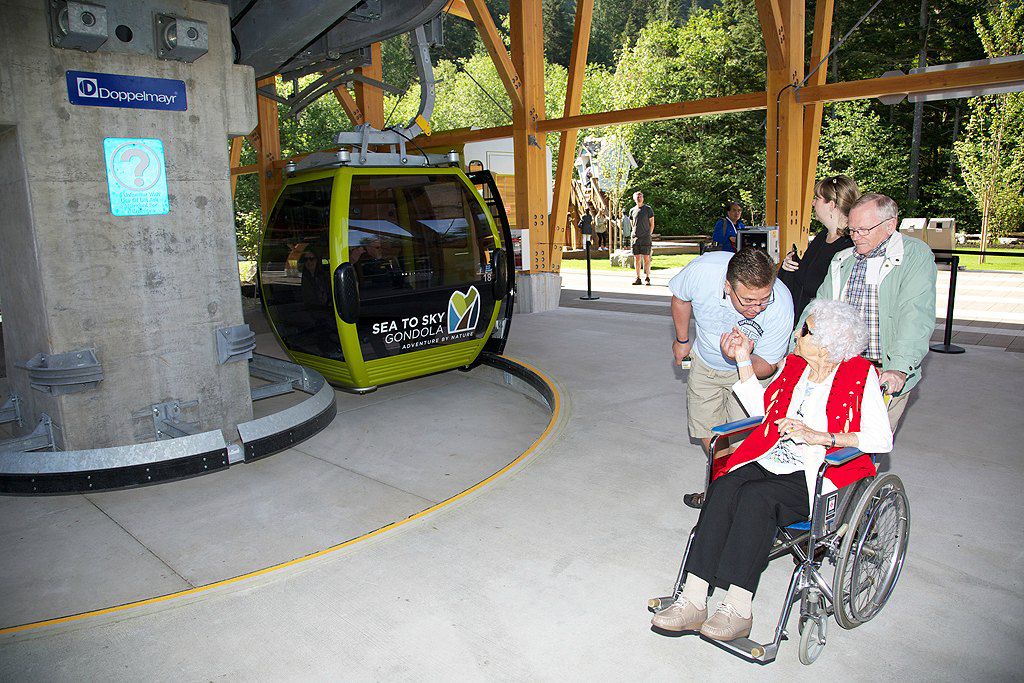 Our 8-person gondola cabins are equipped for wheelchairs and strollers. Our lift operators will slow down the lift if you need extra time getting in and out of the gondola cabin.  
Photo by Paul Bride
.
Stay for dinner
We will be stay open later on Saturday, February 7th. Share the cheese or chocolate fondue, or keep it simple with a soup, salad and other choices. Check our our dinner menu here. Photo by Nicole Gurney Photography. The Sea to Sky Singers dining in our Summit Lodge after their Christmas performance in December.
 
Have your coffee with a view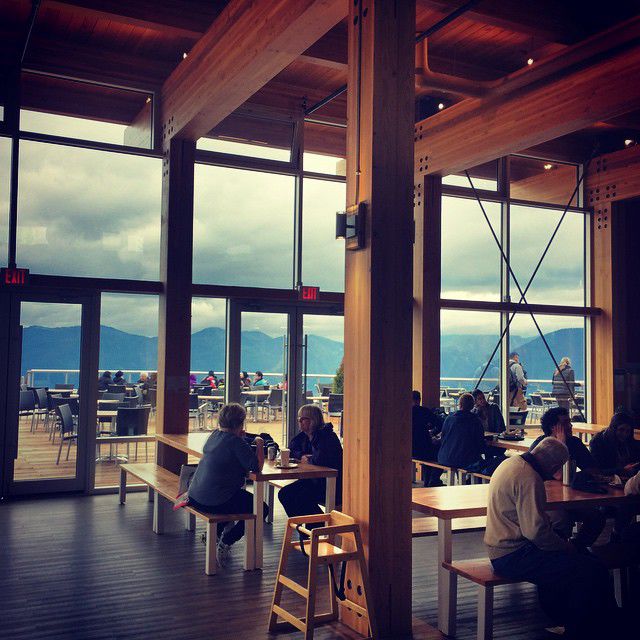 Grab some treats and a hot cup of tea or coffee and grab a seat in the Summit Lodge. Perch by the wood stove and gaze at the view, or chat over a bowl of soup for lunch.
Photo by Drew Alma.
Other activities in Squamish
 
The Eagle Float at Sunwolf in Brackendale (available till mid-February)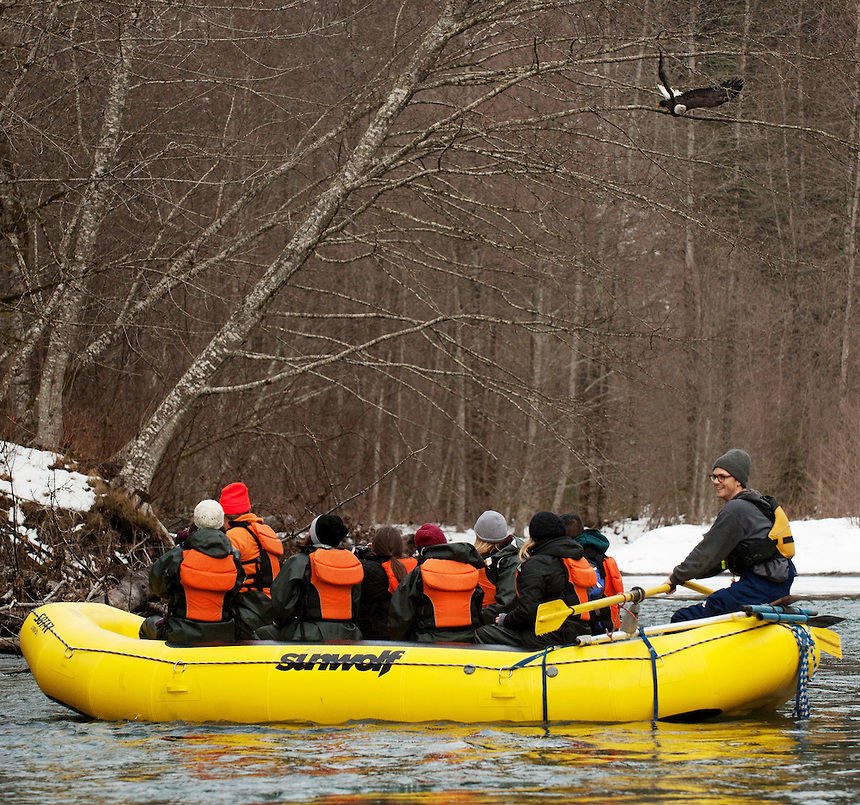 Every year, Brackendale hosts one of the largest populations of bald eagles in the world. These magnificent birds feed on the salmon that spawn in the glacial fed Squamish and Cheakamus rivers starting in mid November till mid February. During this spectacular season, Sunwolf provides the opportunity to view the eagles from a remarkable vantage point – the river.  As you gently float along the river, Sunwolf's experienced and knowledgeable guides will educate you about the life cycle of the bald eagle and salmon, along with the incredible flora and fauna of our location.  This is a wonderful trip for all the family, especially those interested in wildlife, bird watching or photography.
All Eagle Viewing Floats include coffee and a light breakfast, as well as lunch after your float.Trips depart daily from Sunwolf at 10am. Eagle Floar and Sea to Sky Gondola packages available. Check out the details here. Photo by David Buzzard.
Where to stay
 
Executive Suites 


The Executive Suites Hotel & Resort in Squamish is a spacious, all-season, All-Suite resort hotel, that is centrally located in Squamish, and only minutes from the Sea to Sky Gondola. This award-winning hotel provides a choice of Studio or One/Two Bedroom Hotel Suites that offer comfortable, mountain-influenced, condo-style accommodations.
Written by Caitlin Mooney-Fu.
Have a wonderful Family Day weekend, and we hope that you take advantage of our 2 for 1 day ticket special on Monday, February 9th. See you then?
For questions please call 604-892-2551 or email Enable JavaScript to view protected content..