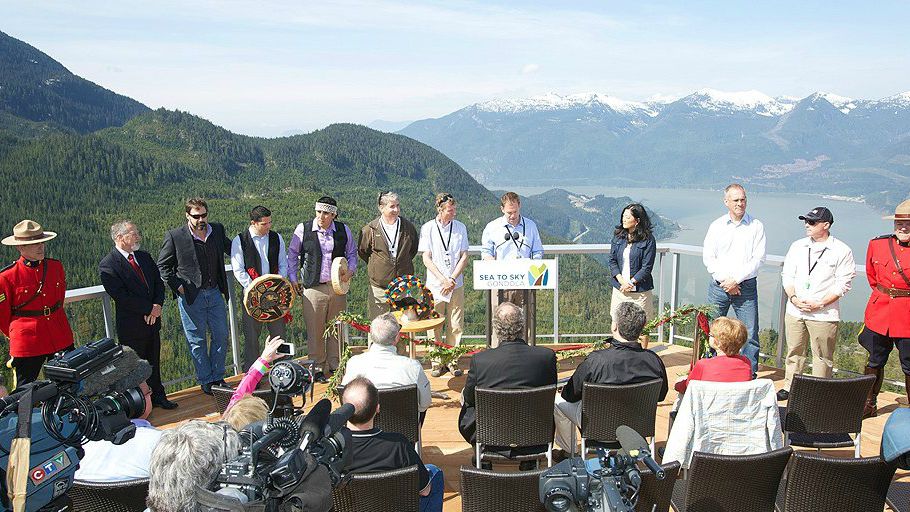 Sea to Sky Gondola reaches new heights with its Official Opening & feature on CNN website
21 May, 2014
It's under a glorious sun that the Sea to Sky Gondola opened its doors to the public on May 16th!
The new attraction welcomed thousands of visitors in its opening weekend of business. The event started with a ribbon ceremony with in attendance a group of business partners and VIPs including, dignitaries and political figures such as Naomi Yamamoto, Minister of State for Small Business and Tourism and Jordan Sturdy, MLA for West Vancouver and Sea to Sky amongst others. The partners and co-founders were there, standing proud each thanking the audience for supporting their vision.
As Trevor Dunn, co-founder and General Manager said, "our vision is coming to life. We couldn't have made it without the support of the community, the industry and the media. It's not everyday that Squamish gets coverage on CNN Money.com for ranking #1 for the Best Mountain town and attraction to experience this summer! Last week, we gathered to celebrate the new attraction as well as the people that believed in us and helped throughout the journey. We are now inviting people across the province and the world to come experience the Sea to Sky region and have their own Adventure By Nature". "We are the best story there is in British Columbia right now, and possibly the Canadian tourism industry and media are picking up on it, seriously", added David Greenfield, co-founder who set the vision with Dunn five years ago.
Everybody is talking about the Sea to Sky Gondola. The $22 million project is BC's biggest tourism development in 20+ years and has the potential to welcome between 250,000 and 300,000 visitors in its first year of operation.
The Sea to Sky Gondola is bringing huge recreation and business opportunities to the entire Sea to Sky corridor. It supports Squamish's title of Outdoor Recreation Capital of Canada as well as helping the town achieving a well-deserve "destination" status. " It's a great example of taking advantage of Beautiful BC", said Yamamoto.
More about the Sea to Sky Gondola media coverage. Media coverage leading to the official opening has been tremendous to date. This spring alone, 50+ articles and features have been published, broadcasted and posted on line and in social media, and more are expected. Local media have been extremely supportive as well as outlets across BC and Canada including, broadcast TV: CBC, Radio Canada, CTV, Global amoungts others. Daily newspapers, influential blogs and travel, lifestyle, outdoors and sports magazines, in print and on-line versions helped us share the news across the board. Media pick up in the US, Germany, UK, China and Australia have been very positive as well. The Sea to Sky Gondola was recently featured in CNN Money.com, AA in-fligh magazine, UK Telegraph newspaper and several others outlet globally.
http://money.cnn.com/gallery/pf/2014/05/15/best-summer-travel-deals.moneymag/index.html