Recipes from the Summit

Herb Crusted Cedar Plank Salmon

01 April, 2021

The Sea to Sky Gondola Culinary Team specializes in west coast contemporary cuisine, with simple and elegant presentations that showcase the tastes and trends of our region. Chef James is busy sourcing new items, building new menus, and preparing for a late spring reopening.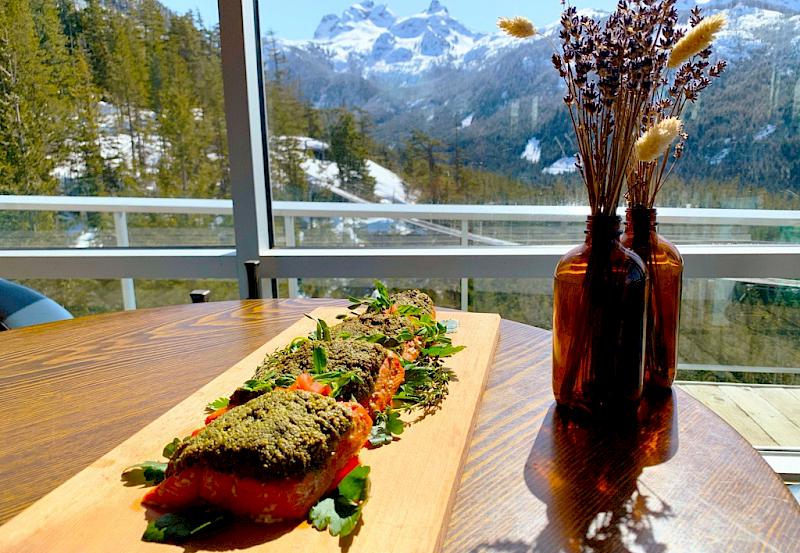 herb crusted cedar plank salmon
1 untreated cedar plank
1 pound salmon fillets, skin removed, cut into four 4oz. portions
1 oz. fresh Italian parsley
1/2 oz. fresh thyme
1/2 oz. fresh basil
2 teaspoon fresh chopped garlic
Juice and zest of one lemon
2 tablespoons olive oil
1 cup shelled pumpkin seeds
Serves 4
Soak the cedar planks for at least 1 hour fully immersed in warm water. Soak longer if you have time. You can find cedar planks for cooking where you purchase BBQ equipment.
Preheat oven to 350 degrees Fahrenheit. Wipe off excess water from cedar plank and rub lightly with olive oil or spray with cooking spray.
Toast pumpkin seeds in a pan over medium heat until lightly coloured. Cool for 10 minutes. While seeds are cooking, add the prepared cedar planks in the oven to preheat while you finish the herb crust.
Add toasted seeds and all herbs, garlic, olive oil and lemon zest, and juice to food processor. Purée until a smooth paste.
Season salmon fillets with salt and pepper. Spread the herb paste onto the top of the seasoned fillets. Remove preheated cedar plank from the oven. Place the salmon fillets on the preheated plank and place back in the oven for 10-14 minutes or until salmon easily flakes and is fully cooked.
Herb Crusted Cedar Plank Salmon can be served with a variety of different side dishes. Chef James recommends roasted potatoes, rice pilaf or risotto, and steamed asparagus or green beans.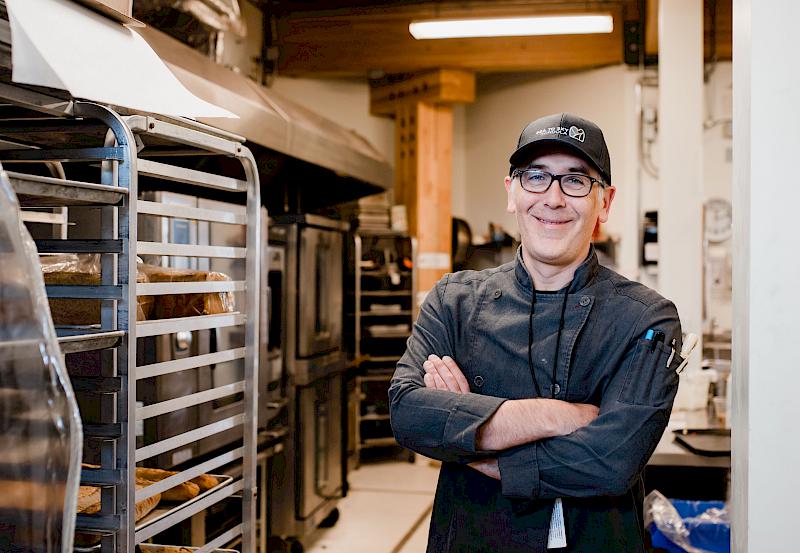 CHEF JAMES MOULD
The community of Squamish has so much to offer both residents and visitors, it's the perfect snapshot of the west coast of our country. Rich culture and history, stunning scenery, and world-class outdoor experiences are all at our fingertips. It's a great spot to call home, to raise a family, and I couldn't be more pleased to be part of the team at the Sea to Sky Gondola.