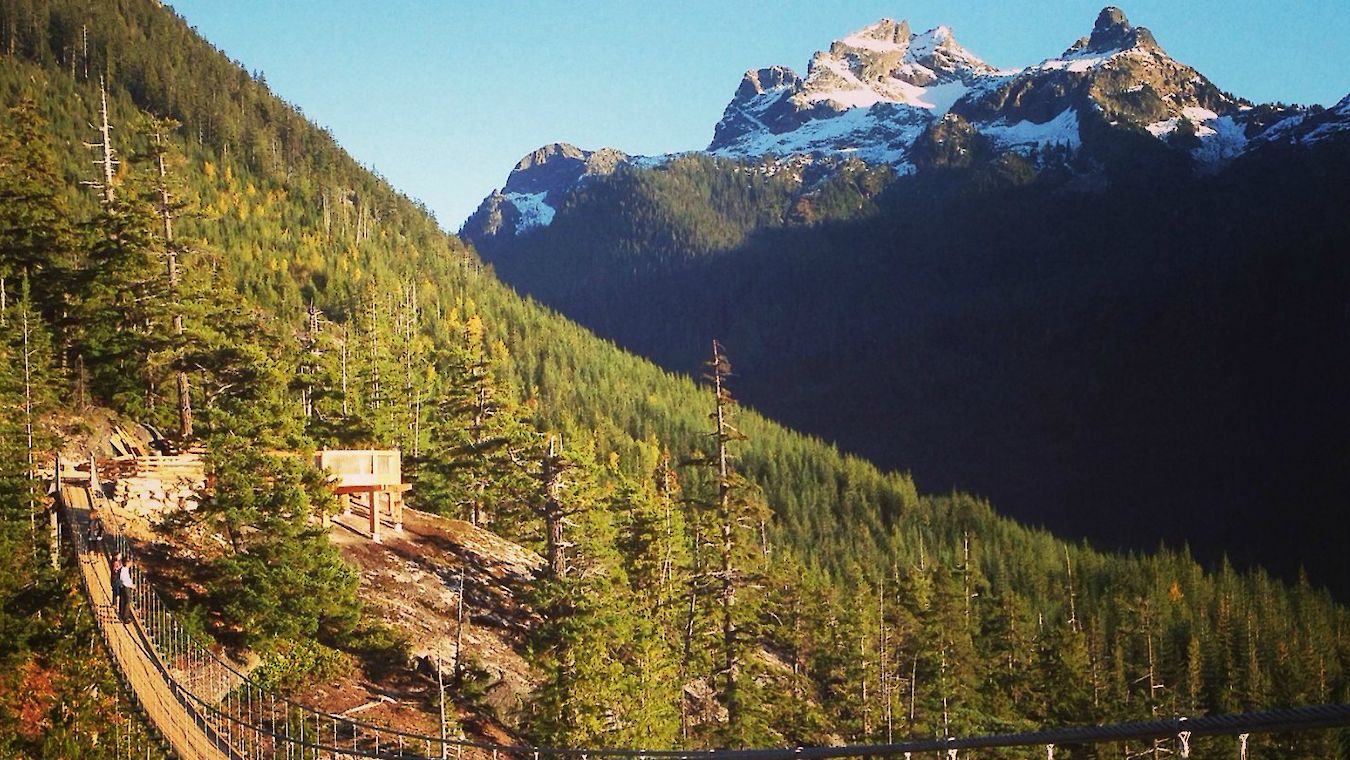 Gord Macdonald - Building the Sky Pilot Suspension Bridge
28 October, 2013
For the past few months we have had Steve Lawrence, Gord Macdonald, and the team from Macdonald & Lawrence Timber Framing Ltd on-site building a suspension bridge for us.
Our Iconic "Sky Pilot suspension bridge" located at the summit is approximately 100 metres long and 65 metres high. The suspension bridge has a backdrop that falls away thousands of feet below giving you a heightened feeling of exposure and vista over land!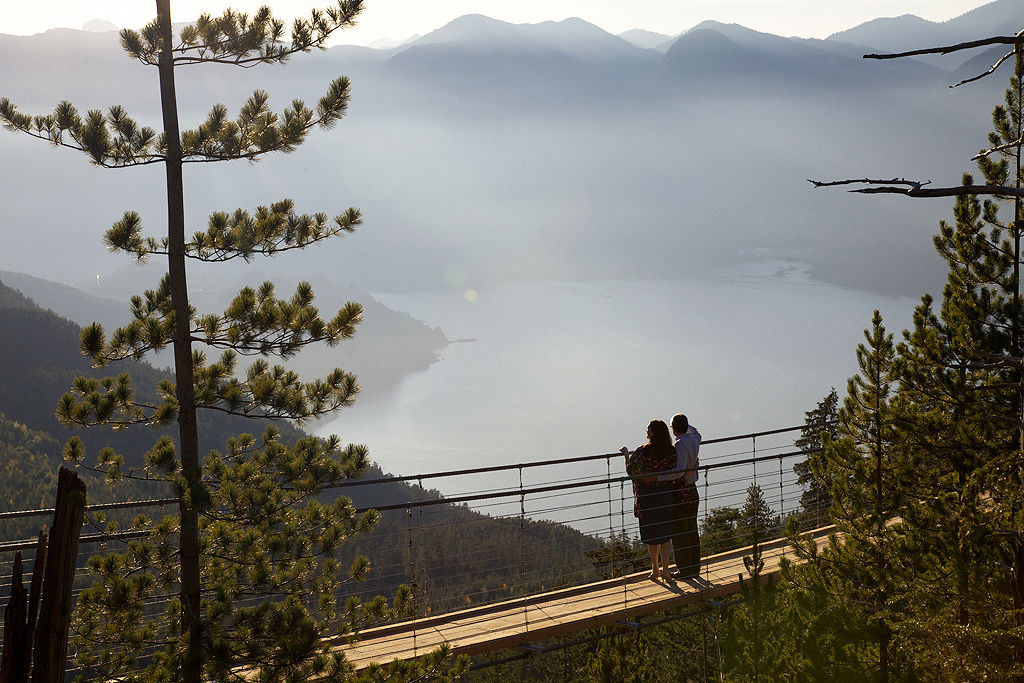 Enjoying the 360 degree view. Photo Credit Paul Bride
The suspension bridge is now complete and ready for our opening in spring 2014! We were lucky enough to catch up with Gord to ask him a few questions about the project and his unique line of work. This is what he had to say:
Tell us about your history in building suspension bridges and how you got into it.
For the past 5-years M&L has been designing and building aerial adventure parks, zip lines and other 'high-adrenaline' sorts of engineered structures all over western Canada (and more recently in the Caribbean). Our Clients include WildPlay Element Parks, Cougar Mountain Excursions Whistler, Chukka Caribbean. These are highly-engineered structures and buildings that often incorporate tensioned cable, and frequently take us into remote or mountain geography similar to the Sea to Sky Gondola (StS) project. As you can imagine, the tools and techniques that we commonly use in the backcountry (lots of helicopter work etc) are especially useful for our work on the StS project.  In 2010 we decided to create a rigging and rope-access division of our business, specifically to serve these markets. Additionally, we have worked on a number of large traditional  bridge projects (and a couple that probably qualify as 'massive') including the restoration of the historic Kinsol Trestle on Vancouver Island. The synthesis of these many parts of our business is what brings us to suspension bridges, and that's how we can approach these sorts of projects with fresh ideas and a broad range of technical solutions.
I understand you were working on a very interesting project in the Antarctica for the past 10 years, could you please tell us more about this project and your experience there.
For the past ten years I have led the Building Conservation work for Antarctic Heritage Trust, a New Zealand based non-profit organization that is conserving the polar history associated with the Heroic Age of Exploration; the early polar explorers Scott, Shackleton and Borchgrevink. I feel incredibly fortunate to be involved in this project and to have the opportunity to work on the ice each year. The buildings and artefacts that are the legacy of these early adventurers are an emotive reminder of that period of exploration when there were still large parts of our planet that were unknown and as yet untraveled. Throughout the course of the project I've had the opportunity to meet and spend time with a great variety of interesting and well known politicians, film-makers, scientists, and others; but without question, the greatest personal highlight of the past few years was meeting Sir Edmond Hillary at Shackleton's Nimrod Hut, and enjoying a mug of tea with him as he shared his stories of crossing the Antarctic continent in the 1950's. It's not often that we have the chance to meet one of our childhood heroes, and it was a BIG day for me for sure… what a lovely and genuine fellow he was!
How has building the suspension bridge for Sea to Sky Gondola been similar/different to other projects you have worked on in the past?
Each of our projects is unique: that's the nature of our business. We tend to take on the sorts of technically and logistically challenging projects that most other contractors run away from. We are often doing things that simply haven't been done before, or doing them in a new and innovative way. Pulling off a project like we're working on with the good folks at StS is bloody hard work and like any project there are challenges and frustrations along the way; but the end results are so exciting that the hard work is absolutely worthwhile! I should also add that throughout this project I've been continually impressed by the quality and dedication of the people involved: the Sea to Sky team are top-notch. I think the magic of this project comes from knowing that we are really building something that is World Class, and destined to become an iconic part of the experience for anyone who travels to Western Canada.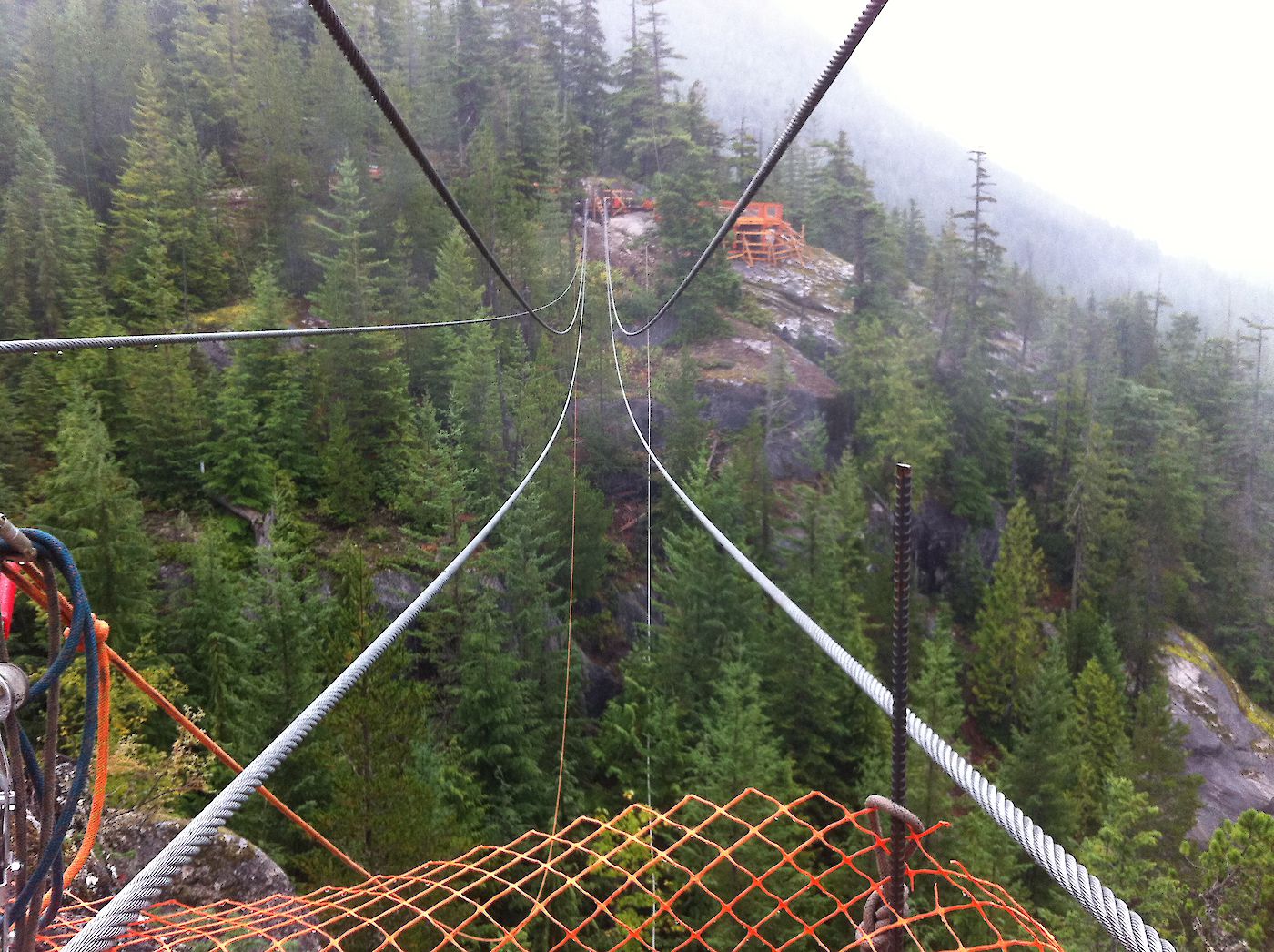 Skypilot Suspension bridge under construction - a slackliner's dream!
What are you most excited for with the opening of the Sea to Sky Gondola?
That's easy! I'm really looking forward to watching the public interact with these new structures and seeing them enjoy the dramatic views above Howe Sound. This site is absolutely mind-blowing, and it is impossible not to feel a sense of awe… as in AWESOME… when walking out over the cliff tops and feeling the same kind of excitement and exposure that is normally only experienced by mountaineers and alpine skiers.
To learn more about Gord's line of work and see some of his other recent projects, please visit his website: www.macdonaldandlawrence.ca or www.lmn23.com.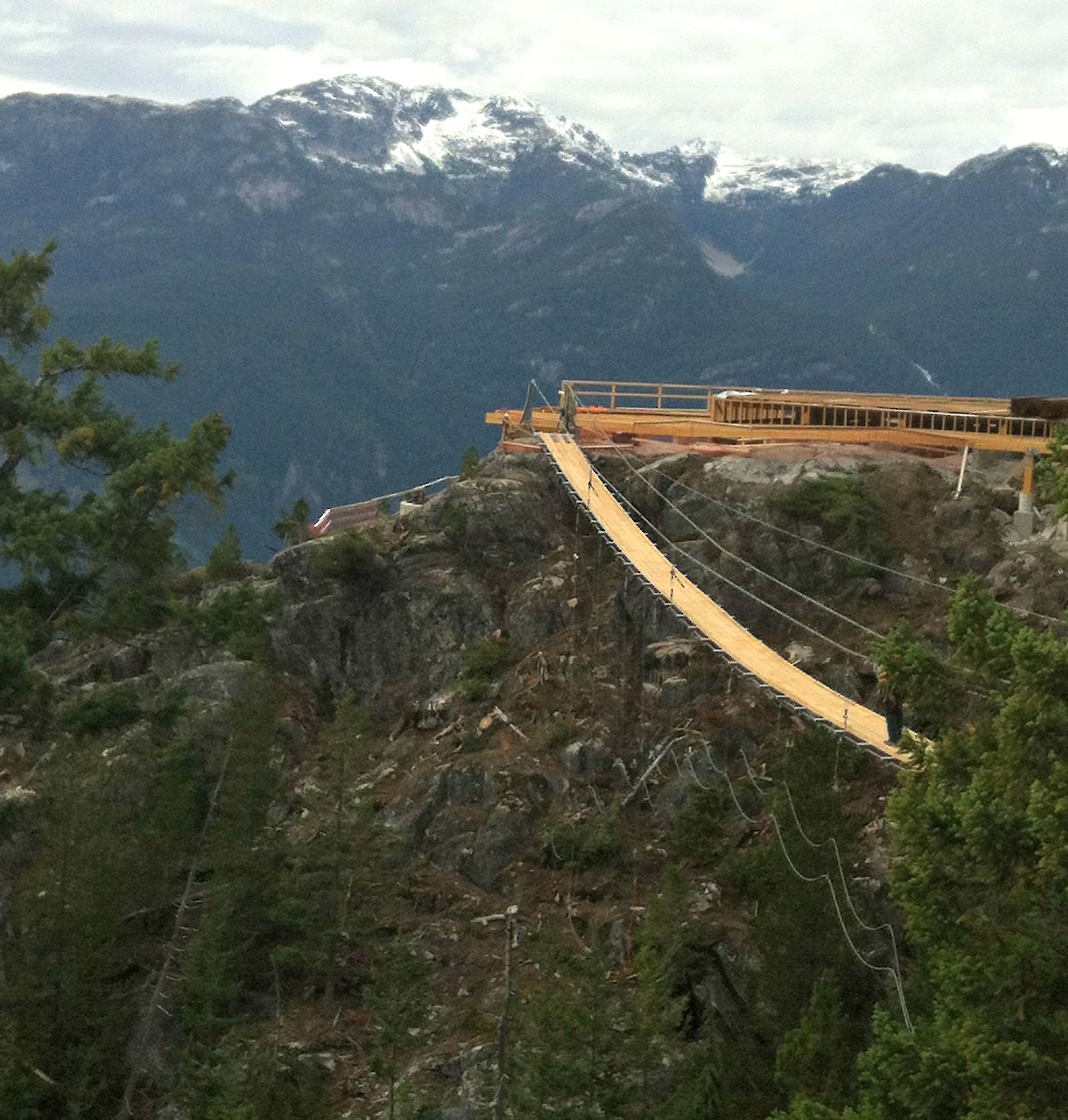 The finishing stages of construction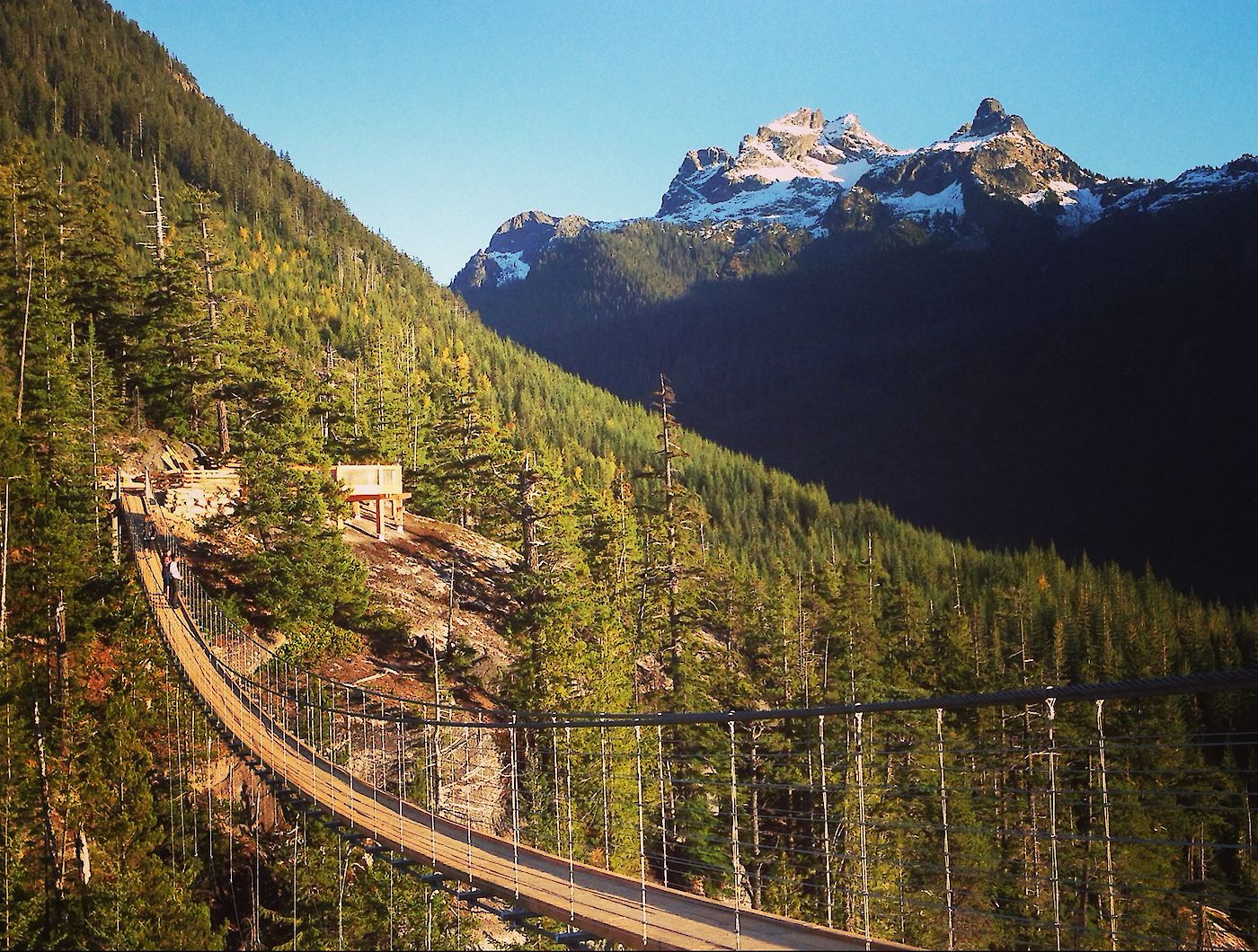 The suspensions bridge and the mountain range it was named after