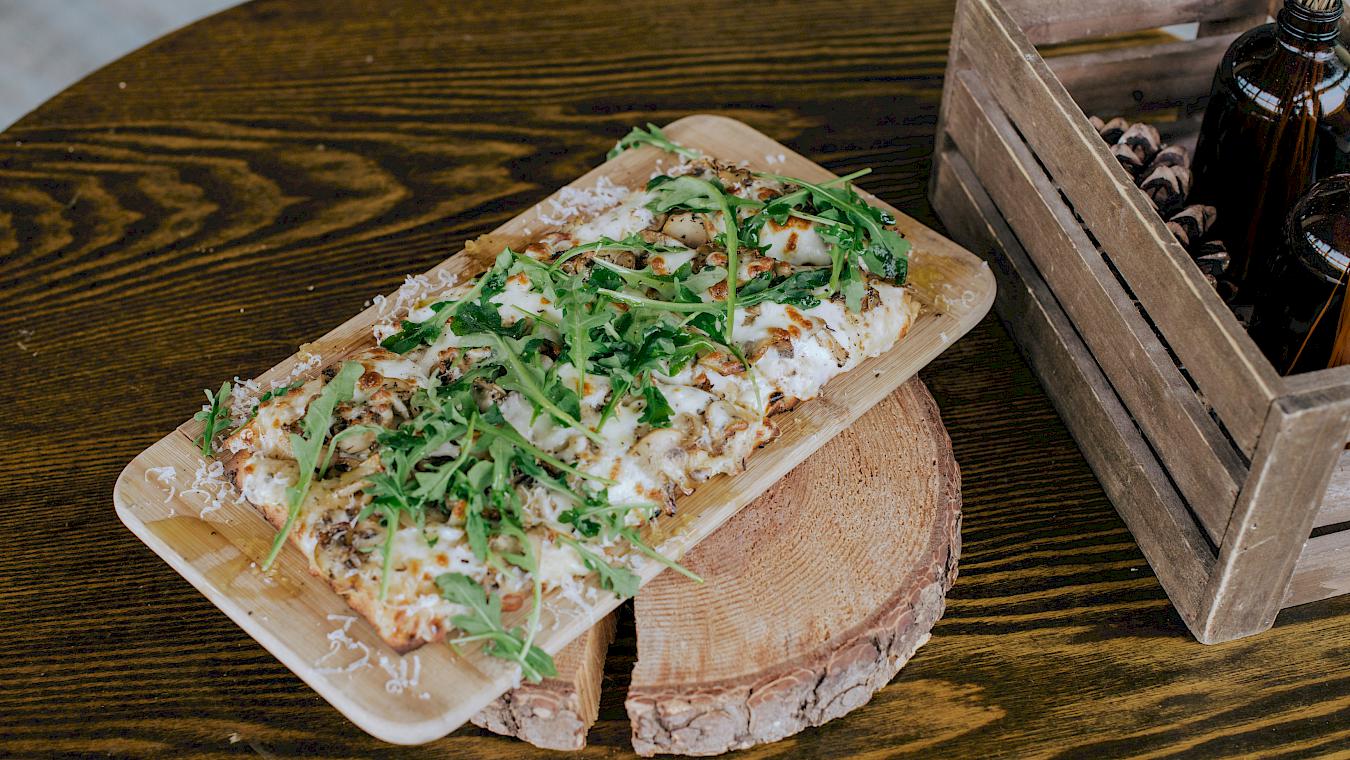 Recipes from the Summit

Fun Guy Flatbread

12 May, 2021
This one is for all the mushroom lovers out there
Flatbread, topped with a delicious mushroom mix, creamy bechamel sauce, mozzarella, and then garnished with arugula, a drizzle of truffle oil, and cracked peppercorn. The Fun Guy Flatbread is a staff favourite available at the Sky Pilot Restaurant.
Mushroom Mix
Chef Johnny loves using a variety of mushrooms such as King Oyster, Shiitake, Chanterelle, Portabella, and Enoki. You can always have a little FUN and substitute any of these mushrooms with what is available to you.
1 tablespoon of olive oil
100g wild mushroom mix or any mushroom of your choice
2 sprigs of fresh thyme
1 garlic clove minced
20g unsalted butter
1. Heat oil in sauté pan on medium heat.
2. When the oil is hot, add the mushrooms and sauté for 3 - 5 minutes.
3. Add in your thyme sprigs and minced garlic and sauté for another 2 - 3 minutes.
4. Finish with butter.
5. Season with salt and pepper.
6. Remove thyme sprigs and cool the mushrooms until needed.
Bechamel Sauce
Making this classic sauce is a great introductory lesson for those who want to challenge themselves at home.
500 mL milk 2%
40g unsalted butter
40g all-purpose flour
40g yellow onion (¼ of a small onion)
2 whole cloves
1 bay leave
Pinch of ground nutmeg
Salt to taste
1. In one sauce pot, heat milk on the lowest setting and make sure not to boil milk as it will curdle.
2. Melt butter in another sauce pot on low heat until it starts bubbling.
3. Add all-pupose flour to make a roux. Stir vigorously for 1-2 minutes. Be sure not to brown your roux.
4. Remove the pot from the heat to allow your roux to cool slightly.
5. Slowly add your warm milk to your roux stirring vigorously with the wire whisk. Once you've added about half of your milk, it is safe to add the remaining liquid at a faster pace.
6. Return your pot to low heat and add in onions, cloves, nutmeg, and salt.
7. Simmer for 20 minutes while whisking occasionally and then strain your sauce.
8. Allow sauce to cool (this will help thicken your sauce more) and reserve until needed.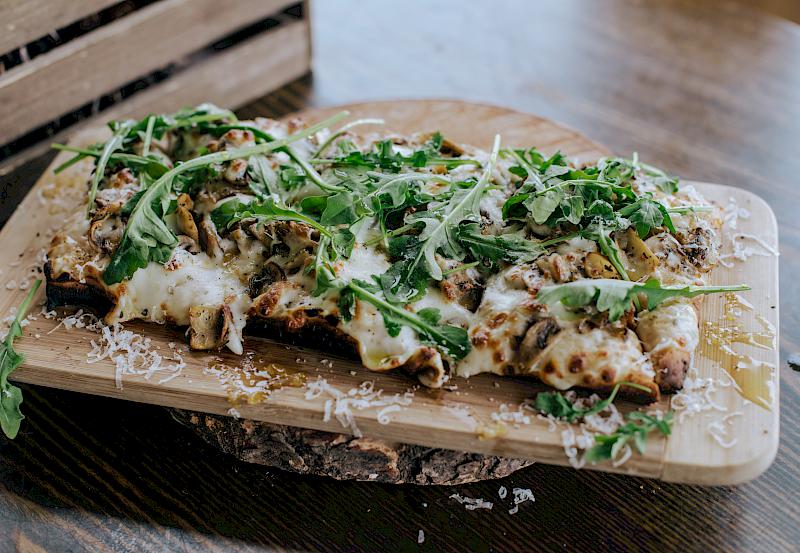 Building Your Fun Guy Flatbread
3 - 6 tablespoons Béchamel Sauce
Flatbread from your favourite local bakery or grocery store
Cooked Mushroom Mix
½ cup grated mozzarella
1 - 2 tablespoons grated parmigiano-reggiano
Handful of arugula
1 tablespoon truffle oil
Cracked peppercorn
Preheat oven to 450° Fahrenheit or you can cook your flatbread on the BBQ using a pizza stone
Spread Bechamel sauce on the flatbread.
Spread cooked mushrooms and grated mozzarella on top.
Place the flatbread in the oven and bake until the surface is bubbling, and the bottom crust is a dark golden colour (6-8 minutes).
Carefully remove flatbread from oven and grate Parmigiano-Reggiano on top.
Garnish with Arugula, a drizzle of truffle oil, and cracked peppercorn.
If you are feeling extra adventurous, substitute flatbread with pizza dough and to make a Fun Guy Pizza. Make sure to double up on your ingredients.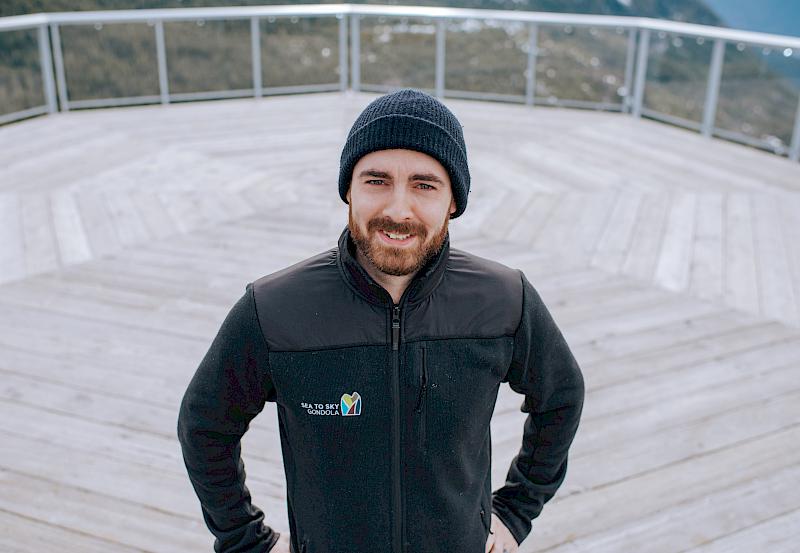 Chef Johnny Whitney
I'm excited about getting back to the summit and cook the menu my team and I have developed for my family, friends, pass holders, and the local Squamish community.