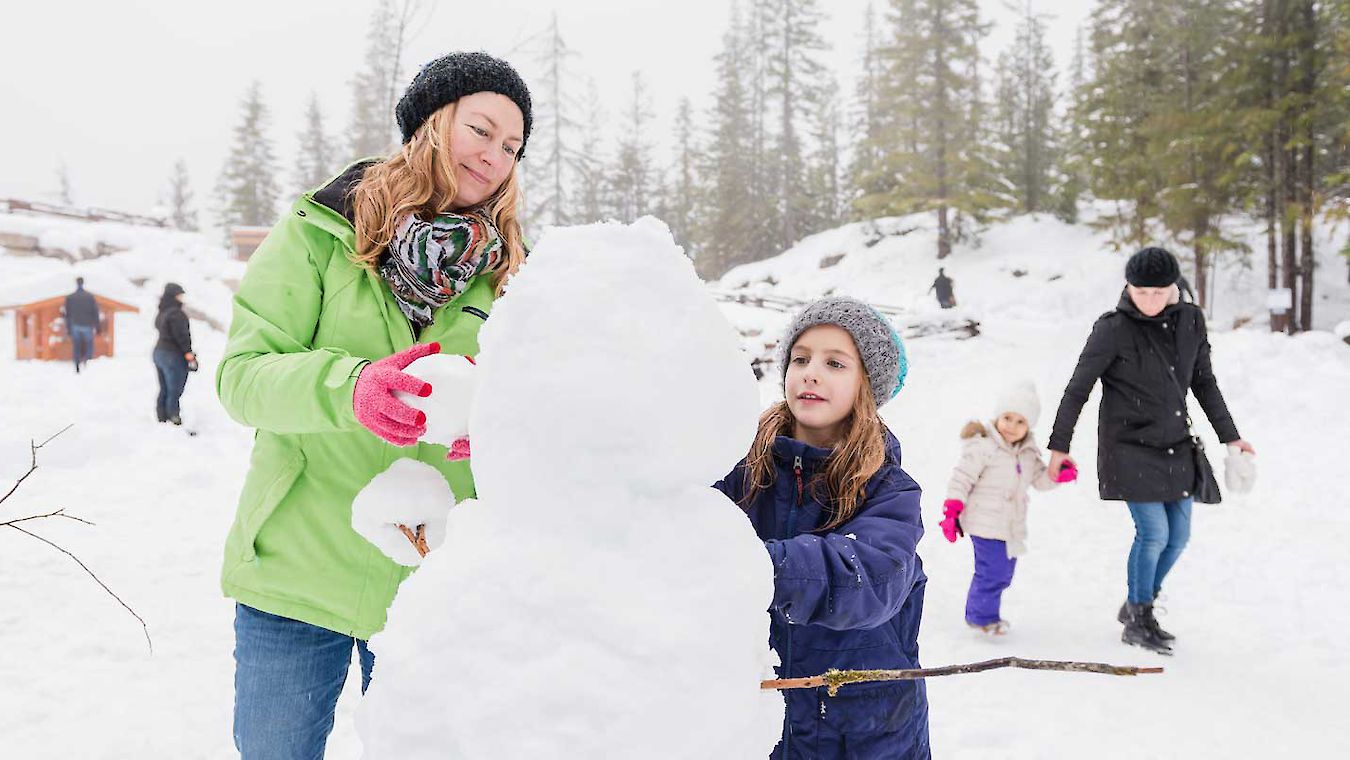 12 Creative Games to Play Outdoors in Winter
23 January, 2017
There is no such thing as bad weather, only bad clothes.
Don't let winter weather freeze your family's health. Here in the Pacific Northwest, we should be ready for one of the triple threats: rain, snow or - the occasional - clear cold winter day. Research continually suggests that spending time outdoors has the power to make both our bodies and emotions feel better. Spending time outdoors may encourage:
Better moods: Both sunlight and physical activity can help you relax and cheer up (Harvard Medical School, 2010). While we don't often see clear skies here in winter, there's no doubt that being outdoors offers more natural sunlight than being indoors!  If getting outside for a morning walk once a day replaces inactive, indoor habits, your body and mind will thank you for it.
 
Building the immune system: Regular exposure to dirt, bacteria and other natural parts of our ecosystem give the human immune system consistent, yet small-scale opportunities to practice fighting off bugs (McDade et al., 2008).
 
Exposure to Vitamin D: Vitamin D promotes mood stability, consistent energy levels, memory, bone growth and more. Depending on your skin tone and age, a minimum of 10-15 minutes of exposure a day is sufficient to kickstart the beneficial biological processes of Vitamin D (Harvard Medical School, 2010).
 
Improved concentration: research suggests that children with ADHD focus easier after walking outdoors in a park than children who walked in an urban neighbourhood (Harvard Medical School, 2010).
OUTDOOR ACTIVITIES
The forecast is calling for clear, cold skies over the next week plus there's no school on Monday, January 30 in the Vancouver school district. Here are a number of activities to play outside on clear, snowing and rainy days:
Clear Skies/Lightly Snowing
Bubble Freeze
Blow bubbles & catch one on the bubble wand. If it is cold enough, it will freeze like a crystal ball and then shatter! (NC State, 2014)
Ice Building
Freeze blocks of ice and build small igloos – freeze ice in bread pans, ice cube trays, etc., (NC State, 2014).
Snow Olympics
This idea comes from the PennState Extension Better Kid Care website.
Long Jump — Draw a starting line in the snow. Children stand at the starting line and jump as far as they can. Compare footprints to see who jumped the farthest.
Snowball Throw — Children stand at a starting line to see how far they can throw snow balls.
Snow Pile Hurdles — The children can help make piles of snow, then run through the area jumping over the piles as they come to them.
Snow Obstacle Course — Use the piles of snow from the hurdle course. Set up a course where they jump over one, hop around the next, etc.
Snow Paint
Use squirt bottles filled with colored water to snow paint. Food coloring is non-toxic (NC State, 2014).
Snowball Target Throw
Targets can be as simple as making a circle in the snow where children can aim their snowballs. A hula hoop, or large container such as a laundry basket, can be used as a target. Or, small plastic containers can be put at different distances from the throw line, pushed into the snow, or mounted at angles in snow banks for children to target (PennState Extension, 2017).
Go Sledding or Snow Tubing
The gondola still has plenty of snow at our summit. Entry and tube rental for our tube park is only $5. Minimum height restriction is 42 inches tall. We have built a natural tube park, which means there's a short walk back after you tube to the bottom. Once the kids get tired, head to Bodhi's plaza for some snacks in front of the fire before the kids head out to play in the Plaza playground or new snow castles.
Snow Maze
Create a snow path pattern for the children to follow. The maze may be simple with straight lines, or it can have lots of twists and turns. Children can walk or run through the maze to see if they can find the quickest way from start to finish. They can pretend they are cars going down the road, or play stop and start games at intersections (PennState Extension, 2017).
Magnify Snowflakes
Catch snowflakes on black construction paper and use a magnifying glass to get a good look at them. Are they all the exact same? How are they different?
Clear Skies/Lightly Raining
Hunt for Birds' Nests
With all the leaves off the trees, nests are much easier for children to spot. Look high and low for bird and squirrel nests. Keep count. How many can you spot in your neighborhood, the local park, or on your center grounds? Encourage children to flap their arms like a bird or scamper like a squirrel each time they spot a nest (NC State, 2014).
Hunt for Winter Colours
Search for and collect the colours of winter. Although more challenging than in other seasons, there are still plenty of colors about in winter. For an added challenge, search the crayon box for the closest matches to the colors found outdoors (NC State, 2014).
Scavenger Walk
With the children's help, make a list of five things to look for on a walk. The list can be things like a red door, a mailbox, a dog house, etc. or you can base your list on a theme, such as signs of winter. Look for the things on your list as you take the children on a walk. The first person to find all five things gets to make up a new list of five things to find (PennState Extension, 2017)
Find Animal Tracks
You may need to find a less frequented area for this: look for animal tracks in the snow. Or, try to identify "Kid tracks" (stand in a row and then have everyone take a few steps) (NC State, 2014).
We'd love to see which of these ideas you tested with your family. Share your winter play photos with us on Facebook and we'll post some on this blog.
To learn more about the importance of outdoor play and exposure to dirt, start with The Dirt Report, published by the National Wildlife Federation.
References
Harvard Medical School (HMS). (2010).  A prescription for better health: go alfresco. Retrieved January 23, 2017, from http://www.health.harvard.edu/newsletter_article/a-prescription-for-better-health-go-alfresco
 
McDade, T. W., Rutherford, J. N., Adair, L., & Kuzawa, C. (2008). Adiposity and Pathogen Exposure Predict C-Reactive Protein in Filipino Women. The Journal of Nutrition, 138(12), 2442–2447. http://doi.org/10.3945/jn.108.092700
 
NC State College of Design Natural Learning Initiative. (2014). Winter Play. Retrieved January 23, 2017, from https://naturalearning.org/content/winter-play
 
PennState Extension. (2017). Outdoor play on winter days (Better Kid Care). Retrieved January 23, 2017, from http://extension.psu.edu/youth/betterkidcare/knowledge-areas/environment-curriculum/activities/all-activities/outdoor-play-on-winter-days
 
Walch, J. M., Rabin, B. S., Day, R., Williams, J. N., Choi, K., & Kang, J. D. (2005). The Effect of Sunlight on Postoperative Analgesic Medication Use: A Prospective Study of Patients Undergoing Spinal Surgery. Psychosomatic Medicine, 67(1), 156-163. doi:10.1097/01.psy.0000149258.42508.70